SUVs OF THE SEA: 325 and 405 Conquest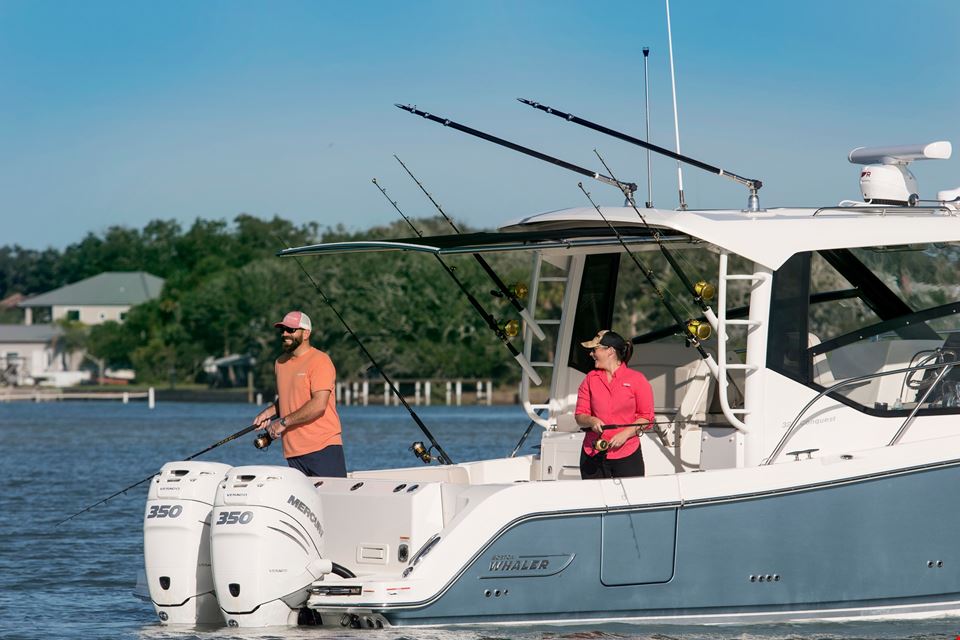 When luxury touches and major capability blend with the innovations galore, you get the 325 and 405 Conquest. So it is no stretch to say that these boats raise the versatility to a new level. These two Conquest models symbolize the start of an exciting chapter for the Unsinkable brand.

The 405 Conquest and 325 Conquest mark the next evolution for the series. These boats bring comfort and capability to a whole new level. Also, they exemplify the commitment to excellence and innovation. The array of design breakthroughs that they feature elevates the comfort and capability.

What do we mean by SUVs of the Sea?
These are boats ready for any and all kinds of adventures on the water.
Impressive versatility – perfect for entertainment and/or fishing
Admirable performance, power and control (dual or quad 300-hp Mercury Verado® engines with optional Joystick Piloting)
Touch of luxury
Perfect for comfortable overnight options in spacious cabin(s)
Innovative seating options and useful features throughout the vessels
Boston Whaler paid close attention to customers and understanding their needs and wants. Bold, cutting-edge design of the new Conquest is the result of their highest standards.

A full-beam windshield and restyled side glass guarantee excellent and clear visibility. This way boaters on the 325 and 405 Conquest get to connect with the water even more. Swimmers and divers will appreciate a dive door with a removable ladder for climbing back onboard. This feature also facilitates pulling of large catches onto the deck.

Following the tradition of all new Whalers, the Conquests have an ingenious twist on seating. Regardless of what you're looking for; entertainment, dining, conversing or napping, you won't be disappointed. A portside companion lounge with a hidden table converts to multiple positions. An adjustable bow of the 405 with its own personal stereo system creates an inviting zone and maximizes outside space.

An excellently equipped deck wet bar with a sink, refrigerator (optional on the 325), and plenty of storage, makes it easy to host a crowd. The 405 also has a highly customizable transom prep area where owners can select to add more options for fishing and entertaining.

While not everyone wants to fish, a lot of customers want to have that option. Therefore, the 405 is fully customizable according to the range of activities desired.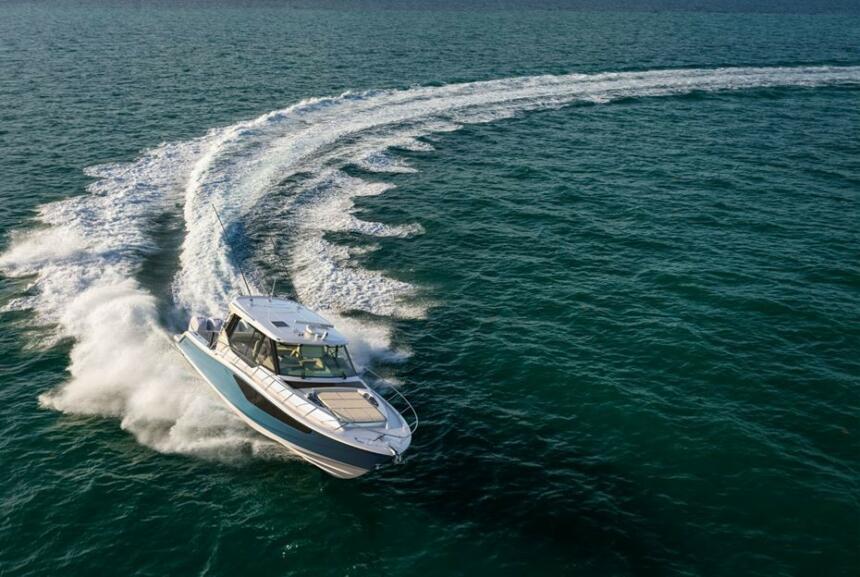 Comfort, safety and luxury on board
Many boaters enjoy the return of overnighting in the cabin below deck on all new models from the Conquest range.The 405 features a private master cabin and guest sleeping quarters, an enclosed head with a separate shower, a convenient galley and much more. A rain shower and an innerspring mattress bring about a sense of luxury. On the 325 a V-berth sleeping area converts into a dining area, plus you get additional guest accommodations.
To ensure greater stability, the Conquest's hull was redesigned from the keel up. The optional Seakeeper gyro-stabilization system all but removes the possibility of a boat roll while at rest. Once you start the standard dual or quad 300-hp Mercury Verado engines, you can push them up to 43-44 knots while still feeling safe on board. An optional Joystick Piloting provides even more power and control.

The 325 and 405 Conquest were the first boats to come out of the recently opened Brunswick Boat Group Technology Center. The BBGTC is located at Whaler's global headquarters in Edgewater, Florida. It's actually a hub of boat product developers, engineers and design experts. All of them untie their knowledge and skills to expand the possibilities for the marine industry and improve it. With a team like this, we're almost certain that the future of boating is bright. And with Boston Whaler's continued focus on innovation and excellence, boaters are looking forward to many exciting chapters ahead