Why Boston Whaler in Croatia?
Boston Whaler has been in Croatia since 1996 but firstly let's take a look at why it's such a great brand.
In the present boating world, Boston Whaler is one of the very few remaining real premium boat brands. It is not some artificial brand or instant product but real value with a strong and impressive history and innovative and creative future.
It is by far one of the most famous boating brands in the world. The legendary unsinkability, technology and innovation are just one part of the Boston Whaler "charm". Certainly, the driving force behind the brand was its maker Richard Fisher, a Harvard graduate. He created the first model in 1956 and established the company in 1958. Using fiberglass and styrofoam in an innovative way, continuous tests, trials and errors, sea trials resulted in the legendary unsinkability. The original idea was to create a sailboat. But by switching to motorboats, at the suggestion of his friend, a move in the right direction was made. From 1996 the Boston Whaler is part of Brunswick Corporation and is now manufactured only in Edgewater, Florida. The specificity of its manufacturing process and the mold does not allow for the boats to be manufactured anywhere else in the world.
In addition, the top quality did not escape the authorities and the US Coast Guard uses the vessels to monitor and surveil the coasts. They were even used during the Vietnam War by the US Coast Guard for patrolling the rivers.

Boston Whaler in Croatia
In 1996 Boston Whaler was the first brand that chose Nautika Centar Nava as their distributor in Croatia. As one of the first privately owned charter companies in Croatia, Nautika Centar Nava just started developing the sales department as well. However, the company's goal then is the same as now – to provide a wide range of excellent services related to boating in sales, aftersales, equipment, maintenance and repair. The founder and general manager of Nava, Dario Marijan, has an excellent eye and nose for boats and boating trends. His vision and intuition have led the company so well in the past and his plans for the future guarantee great results to come.
At Nautika Centar Nava, we help beginners and experienced boaters alike and our team of professionals is there to:
introduce you to all that Boston Whalers have to offer and their possibilities
schedule a sea trial
advise and help you choose the right boat
arrange and order additional equipment and its installment
help you choose the ideal payment and/or financing method, between boat insurance options, delivery possibilities
schedule service and maintenance and organize repairs
Clients in Croatia recognize and appreciate the safety, flexibility and quality of craftsmanship put into every Boston Whaler. Mostly passionate or professional fishermen and entrepreneurs for professional maritime transportation purchase these boats. Some of the earliest models sold back then are still boating around Croatia today.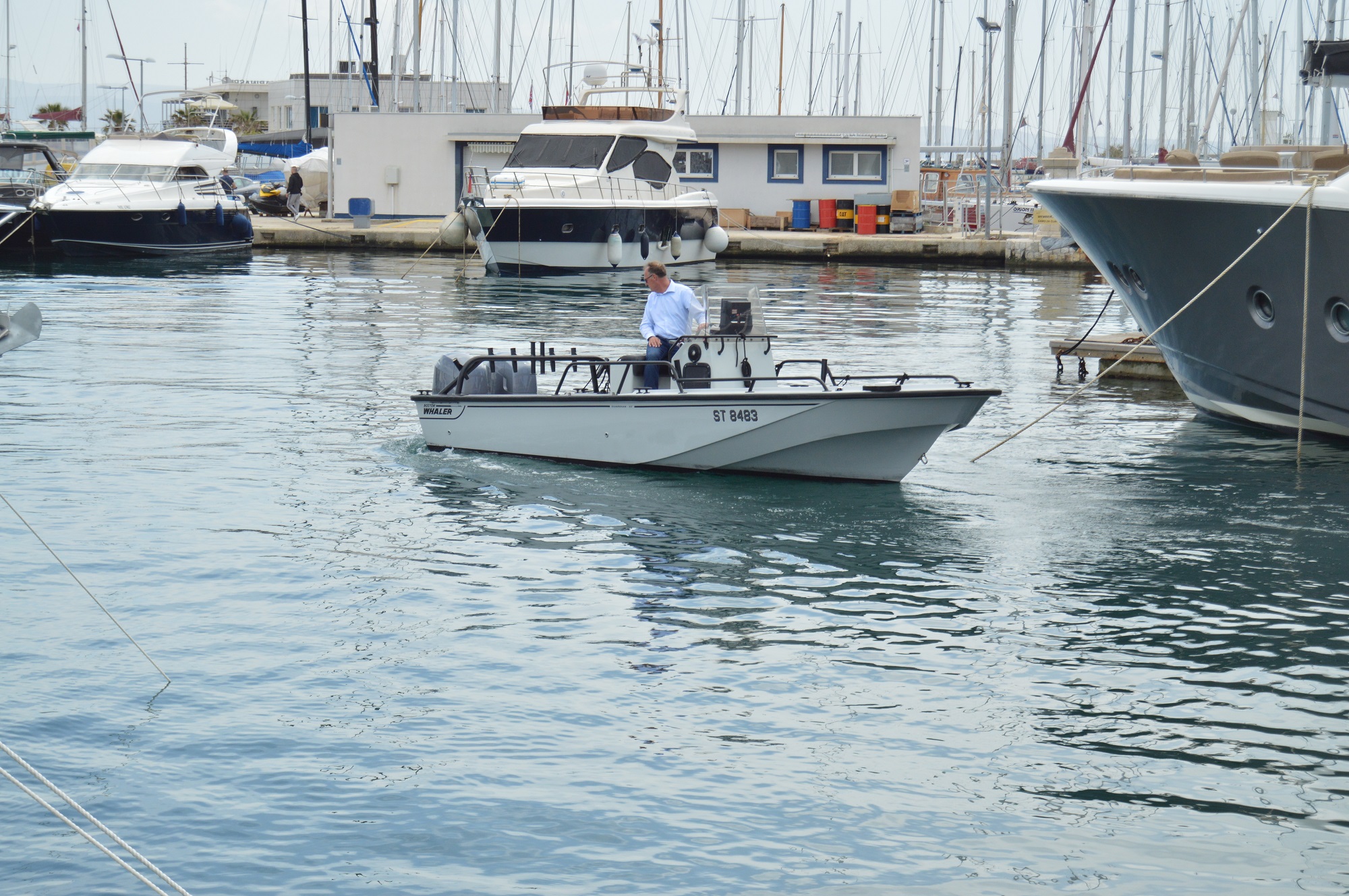 Boston Whaler – a Fisherman's Dream Boat
The very name of the brand gives away the inspiration behind it. To this day the Boston Whalers has kept and introduced some incredible fishing abilities:
plenty of storage capacity
ergonomic cockpit
unrivaled reliability and unmatched resistance
maximum maneuverability
spacious fishponds and fish tanks integrated into the floor
And Croatia has some excellent fishing grounds. From Big Game Fishing, to trophy fishing and serious competitions to hours of fun for the kids with a simple string and hook wrapped around some styrofoam. A Boston Whaler answers to any task or calling.

So much more than a Fishing Boat
Due to development and boating "evolution" Boston Whaler turned into a leader of the industry. A wide range of models available and their customization abilities are impressive and keep in mind
each Boston Whaler owners gets extraordinary value for money (that's why they are extremely faithful to the brand)
Boston Whaler is recognized not only as a fishing boat but also as a luxury day cruiser, watersport joyride, ideal entertainment vessel, comfortable family cruiser or weekend boat or even a luxury tender boat
it is probably the safest boat from serial production on the global market today
Therefore, let us guide you and help you choose your perfect Boston Whaler and make every water experience unforgettable.